What our customer's says...
Domenico Calabretta
There's not many people I'd let work on my bike but once I talked to Dennis and saw his work I knew I'd be in good hands!! Thank you so much and expect lots of ebike customers coming your way!!
Response from the owner Thanks Nicko for your trust in my knowledge!

PATRICIA KRONMAN
Denis gave us a great education in the purchase of our new Ebikes! He's extremely knowlegible! He recommended bikes for us based on our local riding requirements, height & weight. We test drove them and were sold! He assembled them for us, we added a few accessories and off we went. We purchased the Magnum brand. The bikes a very well made and sturdy.All that said, we are thrilled with our bikes and the service Denis provided!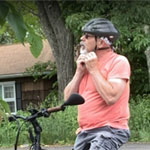 Juli Akd
(Translated by Google) Dennis is the best Bike Mechanic I met in the USA and I went to many places to confirm it. He is very organized and knows what he is doing. I definitely recommend it 100%. Your ebike is safe with it.

(Original)
Dennis es el mejor Mecanico de bicis que conocí en Usa y fui a muchos lugares para confirmarlo. Es muy organizado y sabe lo que hace. Sin dudas lo recomiendo 100%. Su ebike está segura con el.

Johanna Osborne
Best place ever to buy a Magnum e-bike!
After extensive research online, renting, and visiting bike shops in several states my husband and I decided the Magnum was the bike for us. Voltaire owner, Denis Grishin is the best to work with! His experience and knowledge of bikes, and his honesty and service are top notch. Denis isn't focused on just selling a bike - his goal is to make sure the bike is a good fit for each individual, ensuring the most comfortable and safest ride.
So, if you're looking for an e-bike go check out Voltaire in Verona and talk to Denis.
Janet S Lee
Denis has always been helpful when I have visited the shop. When it was difficult for him to get bike accessories during the pandemic, he referred me to online sources to purchase them. He always tries to make sure I am purchasing the best quality item for price. Several times he has declined to charge for services he provided. This is a great bike shop!

Maria T
I purchased my first e-bike from Voltaire a few weeks ago. I was able to rent the bike from them for two days and try it out before making a decision. Denis and the rest of the staff were very professional and patient with all my questions.
I definitely recommend Voltaire Cycles!

Robert Santos
Overall he's a great guy. Good attitude Easy to talk to, adorably foreign and between the music and everything his shop just has a really good vibe. But the other day this guy really went above and beyond for me. I was having trouble figuring out how to take off and put back the back wheel on my ebike because it's a bit more complex than doing so on a regular bike. So he offered some guidance let me use his tools and practice at it for over an hour at his store until I got it right. Which is crazy cuz I didn't even buy my ebike from him.
But then he went a step further. It was a heat wave that day and because my ride home would be over an hour he was worried I was at risk for heat stroke (especially since I didn't have a helmet which helps keep your head cool somehow). He realized we live in pretty much the same direction so after he closed he loaded my bike into his van and drove me most of the way home to keep me safe from the heat. Never had any business owner go this far for me. I just feel bad cuz he's been my go to for a while and I still can't remember his name. Will update once I remember.
Edit: Denis, his name's Denis!
Response from the owner.
Hello Robert, Since you are a delivery guy and depend a lot on your ebike condition, I am trying to help you and fellas like you. Commutters without cars and delivery guys are in top priority. I know you don't have a car and it's a hassle for you to bring your bike to my shop for a flat fix. So that's a small help I could provide to you. Now you can fix your bike on the same spot! Good luck! Cheers!

Lexus LS
Denis from Voltaire Cycles Ebikes in Verona, NJ is by far one of the most knowledgeable electric bicycle specialists and mechanics in the tri-state area, and potentially in the entire Northeastern United States.

Whether you are shopping for (or servicing) an affordable hub-drive ebike, or are considering purchasing / servicing a massively powerful mid-drive Bafang Ultra powered beast of a bike with dual batteries integrated into the frame (ask them about this model), Denis is the person you want to speak to and see in-person.

Unlike other Local Bike Shops whom may scoff at servicing non-mechanical components on your ebike, and may shy away from diagnosing electrical issues, Voltaire Cycles focuses on precisely the ebike market. They know everything there is to know about the electrical controllers, motors, brake actuators, lighting, and everything else what makes an ebike unique, while at the same time of course knowing the ins-and-outs of all the mechanical components, and how to take best advantage of the mechanical components to complement the electrical motor.

Whether you're looking at an entry-level 250-500 watt ebike, or a top-of-the-line 1,500-2,000 watt mid drive offroad-style ebike, stop by to see Denis, and see for yourself what they can offer, both in terms of sales and service.

Olena Grigoryeva
We had great experience fixing out scooter here! Our electrical scooter had flat tire and we could not find a place to fox it. When we came in here, Denis took the scooter in work right away! He not just changed the tire, he also adjusted the wheels and the pedals for the bette ride. He gave us great recommendations how we can maintain the scooter easy and avoid problems in the future. Now I I know where to buy the electrical bike as well!
Jim Kennedy
Denis is one of the best mechanics I have ever met. For most bike shops the mechanics just run it like an assembly line, work-fix-next. Not Denis he puts his heart and sole into into everyone his wrenches touch. He is so passionate about bikes and treats his customers like gold it shows. You can't go wrong with this bicycle shop and Denis.
Response from the owner Thanks Jim. It was an honor working with your 1935 military bike. Here is the video about it

Elli Amir
Voltaire Cycles Verona recently switched to a new ownership. The new owner, Denis, is a competent mechanic who works closely with the ebike companies. In particular, six months ago we bought a Magnum bike here (under the *previous* ownership), which had multiple malfunctions. Denis offered to fix it for us and replace multiple parts, free of charge. When we got delayed due to traffic, Denis kept the store open 30 minutes after the closing time, and then provided us with a band to secure the ebike to our car's bike rack (again free of charge).

If you're looking to buy or repair an ebike, make sure to visit Voltaire and Denis!

Louis D
Really great place. Denis is extremely knowledgeable, fair and hard working. The scooter he worked on for us was not even a brand the he sold but he is an expert technician nonetheless. Always goes the extra mile as he tightened the brake added air to the tire, and cleaned and tightened all the connections because he actually cares about his work. If I had to buy an E bike or another scooter I would no doubt visit him.
Response from the owner
Thanks Louis. Hope seeing you in the spring in my shop. All the best!

Robert Hall
I was referred to voltaire by a friend who said i wouldn't be disappointed. That was a hell of an understatement!! Not only is Dennis knowledgeable he is efficient and sturdy. I recommend them to any and everyone trying to buy and electric bike or scooter. Or get one repaired. Totally satisfied as a customer.
Response from the owner
Hello Robert. Thank you very much! I know you don't have a car so I put together your electric monster in front of you to save your time and Uber rides.
I highly appreciate your review and future refferals to us!

Thomas Distler
Denis was a delight to work with. We are new e bike riders, and wanted to buy from an established business that knows and supports its products, and which offered test rides. Denis took extra time with us making sure we were comfortable with the purchase. We drove an hour from the Hudson Valley to meet Denis and it was all worth the trip. And to our friends in Manhattan, Verona is less than 40 minutes by car.
Response from the owner.
Thanks alot Tom. I am very pleased that you chose our bike shop. I know you are 1 hour away, from NY so please feel free to call me for any consultation. Or stop by and I will try to service your bikes at the same time to save for you an extra trip. And Happy Birthday again!

Ed Haas
What a great bike shop! I happened to buy an ebike from an online manufacturer and was having issues with the front brakes. I wrote to them, and they gave me a list of affiliated shops to take my bike to. There were closer shops on the list but didn't have good reviews. Denis had excellent reviews, so I gave him a call, and he was very nice on the phone and explained what needed to be done. He told me to bring the bike in the next day, and I was all set. I got there first thing, and he was fantastic, not only did he fix the issue, but he went over the rest of the bike and made some more adjustments to optimize the performance. Now that I know about Voltaire Cycles, I know I have a great place to go to for my bike and future bike needs. Thank you, Denis!
Response from the owner
Thanks alot Ed. I am very pleased that you chose my shop thought there are plenty in Manhattan! I hope the bike will work smooth!

TextJim Brennan
After many hours of search and research for an ebike that would suit me best, I decided that I wanted to go local. And I uncovered a gem when I discovered Voltaire Cycles in Verona, NJ. Denis, the owner, more than knows his way around an ebike, and listened carefully before suggesting the right machine for me. A veteran bicycle mechanic and a genuinely nice guy, Denis took all my needs into account, and accompanied me on a test drive in the area. His attention was solely on me, and I fell in love with the Magnum Pathfinder. He upgraded my seat, outfitted me with a few accessories, and I took home my new bike. An hour later I discovered that I had taken home the wrong charger. I called Denis to let him know and he drove HIS ebike 40 minutes to my home that day to bring me the right charger. That is real old-time, neighborly service - and then some! Big enough for an array of choices and small enough for expert one-on-one service, Voltaire and Denis turned a desperate search into a perfect experience, and a perfect ride for me. Cheers and thank you again.
Response from the owner Thanks alot Jim. I am very pleased with your feedback. Will do my best to keep the service on the same level. Enjoy your Pathfinder!
Craig Kimbrough
I recently had a fantastic experience at Voltaire Cycles Verona, owned by Dennis and his wife. They went above and beyond to ensure my family's visit was enjoyable and stress-free.

I visited the store with my wife and our two young children. From the moment we stepped in, Dennis and his wife greeted us warmly and made us feel right at home. His wife immediately sensed that our little ones might need some extra attention, and she kindly took our two-year-old aside, feeding him an apple and putting on cartoons to keep him entertained. This small act of kindness allowed me to focus on finding the perfect bikes for our family.

I was particularly impressed with Dennis's knowledge and expertise. He took the time to understand our needs and preferences, asking detailed questions about our biking habits and terrain preferences. With his extensive knowledge of the available models and their features, he provided us with comprehensive descriptions of each bike, ensuring we made an informed decision.

Dennis's attention to detail was remarkable. He carefully explained the different components, highlighting the specific benefits of each bike we were considering. His explanations were clear and easy to understand, making it much simpler for us to make a decision that met our requirements.

Throughout the process, Dennis and his wife created a warm and welcoming atmosphere. They were patient, understanding, and genuinely interested in helping us find the perfect bikes for our family. Their exceptional customer service made us feel valued and appreciated as customers.

I left Voltaire Cycles Verona feeling extremely satisfied with our purchase. Thanks to Dennis's guidance, we found two bikes that perfectly suited our needs and preferences. The entire experience was stress-free and enjoyable, thanks to the care and attention given to our children.

I highly recommend Voltaire Cycles Verona to anyone in search of top-quality bikes and outstanding customer service. Dennis and his wife's dedication to ensuring a positive experience for their customers sets them apart from other bike shops. I will definitely be returning for any future biking needs, and I encourage others to do the same.